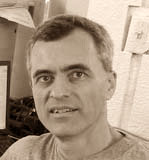 Klaus Zietlow is a one-stop shop for electronics design, analog, digital, and mixed signals. He has worked on everything from high-speed, high-precision analog to FPGA embedded multiprocessor designs to ultra low-power radios.
Mr. Zietlow has a fully-equipped lab and knows how to use it: everything from a 7-digit voltage calibrator to a 4GHz DSO, curve tracer to real-time spectrum analyzer, reflow oven to thermal imaging camera, inspection microscope to time interval analyzer. He also maintains a metalworking shop with mill, lathe, CNC router, and a welder for the odd job.
He's interested in working on challenging projects in the embedded systems field where his interdisciplinary skills can be used to the fullest.
Recent Project:
The prototype (top) and production board for an Agilent DNA Microarray scanner are shown in the picture. The purpose of the board is acquire data from two photo multiplier tubes (PMT) that are at the receiving end of a laser fluorescence scanner. The PMT signals are amplified and sampled using a quad 14-bit / 44 MSPS ADC and sent over LVDS to the XEM3005 at 622 Mbps. The prototype used LabVIEW to control the design.